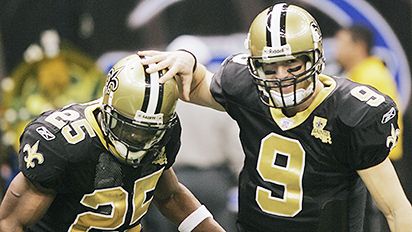 It appears that I am the sole man today here at LSWTF, so we continue on from yesterday's discussion of the AFC and the battle for the playoffs there and head on over to the NFC where half the conference is the utter shits. It's gonna be a sad day when three teams at 500 are fighting to get into the playoffs. Tomorrow's coverage will be my playoff predictions and draft order for 2008.
NFC EAST
1. Philadelphia Eagles
. Predicted Record 10-6
The Eagles are now on the second tier of the NFC, which shows us that they are in their twilight of NFC dominance. Well, at least dominance of being the Buffalo Bills of the NFC Championship Game. Well, maybe not the bills, perhaps the Braves. Donovan is getting older and looks to be slowing down with injuries and will likely have another one this year. If that happens, the Eagles will fall farther down, no Jeff Garcia this year.
2. Dallas Cowboys
. Predicted Record 9-7
This really could be a coin flip between these two teams, but Eagles have a lighter schedule in my opinion and as such here are your Cowboys, America's crack wagon. There shouldn't be too much of a difference between this year and last year save for the fact Romo won't be a surprise this year. If he can get working with TO, it could be a surprise for many.
3. Washington Redskins
. Predicted Record 8-8
Congrats Skins, this is an improvement over the last few years, but sadly it is only 500. Though in the NFC an 8-8 record could very well qualify you for the playoffs, so you can look forward to that. You put Joe Gibbs in the playoffs and anything can happen, so the best you can hope for is the rest of the NFC being so piss poor you squeak in.
4. New York Giants
. Predicted Record 5-11
Ouch, a tough year for Lesser Manning and the New York football Giants. They are getting older, though they at least are attempting to find people to replace veterans, unlike the Eagles. The running back situation is in question, but then so is Eli. Their secondary can best be referred to as a wet napkin and Coughlin needs to resign, a decent coach just not a championship coach.
NFC NORTH
1. Chicago Bears
. Predicted Record 14-2
Some may wonder why the predicted Bears record is so high, well there is a simple answer for that question, they play in the Norris. The Lions, Packers and Vikings are all the lower half of the NFC and the Bears have six games against them and should win them all. The rest of their schedule is also fairly light, by my opinion, and as such their defense should handle the majority of teams they play this year. Another year where the Bears' defense wins them games and the offense just tries not to fuck things up.
2. Detroit Lions
. Predicted Record 5-11
I know your collective hearts skipped a beat when you saw that I put the Lions in second place. Yes, they are in second place, but still well below five hundred. Though I suppose that is one thing Detroit fans can put their hats on. I think they can have a bright future, they're beginning to put pieces into the puzzle. Sadly they still have no long term QB solution, and coaches keep getting arrested. Things COULD be on their way up, and I do like their new head coach so we'll see where this goes.
3. Minnesota Vikings
. Predicted Record 5-11
Yes, I put the Lions above them; probably just to fuck with some Detroit fans and give them something to smile about. I'm sorry Minnesota, but the only thing you can win it appears is Sex Boat Cruise awards. Not sold on Childress, but when your offense is going to run solely on Peterson Power, there are issues. The defense is getting better, but still about two or three pieces away from being on the upper level. Of course there is also the injury thing, if they can't stay healthy they don't have a prayer.
4. Green Bay Packers
. Predicted Record 4-12
I guess we can sum up this team into two names, Brett Farve and AJ Hawk. These may be the sole bright spots on this team, even with Farve getting EXTREMELY long in the tooth. Yes, he's going to lose the Packers some games, but those four wins may be because of him as well. They need to play Aaron Rodgers to see if he is a good quarterback or just collecting welfare in Green Bay since apparently he has no real job. Best plan would be to draft Laurinitis and team him with Hawk for the best linebacker combo in the NFL.
NFC SOUTH
1. New Orleans Saints
. Predicted Record 12-4
Let me be clear, the Saints are the San Diego Chargers of the NFC. They have all the pieces it would appear to be the best team in the Conference, but still have not made the Super Bowl. Of course their pieces only came together last year so we'll see what the second year under Brees, Bush and Payton bring about, which I have a feeling will be a Super Bowl berth and maybe even a win. I'm just glad that I was always right about Drew Brees.
2. Carolina Panthers
. Predicted Record 8-8
Another difficult year for John Fox and the Panthers. I love John Fox as a coach, I love the pieces of this team. Just looking at it this team every year should be in contention for the super bowl. There are two problems though that ALWAYS keeps this team out of contention. Running Back health and Jake Delhomme. This record may be much lower if they don't replace Delhomme with David Carr before mid-season. Then again Delhomme may once again pull something from his ass. Regardless Carr should thrive in this offense, it has an actually offensive line for crying out loud.
3. Tampa Bay Buccaneers
. Predicted Record 5-12
The Buccs have the ability this year to be 5-12 or 12-5, it all depends on what happens with this amalgam of talent they have. They sign Trotter to help out D Brooks, but let Simeon Rice go away and haven't really replaced him with anything substantial. Jeff Garcia will help alleviate the Cover Zero defense against Cadillac Williams, but there still is only one receive for Garcia to throw to, if he has time to throw since their offensive line looks like the Giants' secondary. My biggest prediction for this team is that Jon Gruden may be fired before the season is even finished. Doug Williams, possibly new head coach, perhaps.
4. Atlanta Falcons
. Predicted Record 3-13
A HUGE fall, many expect, but my reasoning is not just the loss of Vick and the starting of Joey. The running game should alleviate some of the pressure on Joey, something he NEVER had in Detroit. The defense is still well enough that this team SHOULD be in every game. If they are, then this team will be much better then 3-13. If Joey proves he can be a quarterback everyone expected, they can contend for the playoffs. I just don't know if they are mentally in the place to win with everything that has happened this off season. Plus they begin this year with a college head coach, which hasn't worked in a decade plus. So expect their first pick next year to be Brian Brohm, QB, Louisville.
NFC WEST
1. Arizona Cardinals
. Predicted Record 9-7
Yes, this will be the year that the Cards FINALLY go back to the playoffs. The biggest reason for this will be Matt Leinart putting this team on his back and carrying them the entire season. I love the selection of Wisenhunt and Grimm as their coaches, which is something the Steelers will miss badly. These guys know how to coach winners consistently. They may very well end the Cardinals being the laughing stock of the NFL this side of Detroit. Leinart has the offensive tools to play the score more then you scheme, since their defense has about one star player, Adrian Wilson.
2. San Francisco 49ers
. Predicted Record 8-8
I absolutely love the job Mike Nolan has done with this franchise. I'm not completely sold on Alex Smith being a championship quarterback, but I am sold on him soon becoming one of those quarterbacks who is always in the playoffs. A Dan Marino or Warren Moon who will put up good numbers, but doesn't have that killer in him to be a champion. The rest of this team is coming along nicely as well and they should be in every game they play in. If they have a fantastic draft in 2008 and patch any holes they have, expect this team to be a contender next season. I would say they're a offensive and defensive lineman away from being playoff bound every year.
3. St Louis Rams
. Predicted Record 6-10
Another case of getting long in the tooth and the injury bug that is always biting them. Sure they have one of the top five best running backs in the game, but what is around him seems to be dwindling. The O-Line is getting older, as are the wide receivers. Bulger is then always looking out for that next injury to occur. Their defense is average, it doesn't get me excited at all, which is never a good sign. This usually means that they will keep them in some games, but lose others and never win one for them.
4. Seattle Seahawks
. Predicted Record 5-11
The ultimate example of a team getting WAY too old. The offense might turn to dust at any moment and Hasselback still doesn't have anyone to throw to. I don't expect Alexander to stay healthy in any form this year so what are they going to score with? Maurice Morris? Bobby Engram catching passes from Seneca Wallace? The defense is still fairly strong, but aging in half of its areas. If they have a better record then 5-11 it will be because of their defense and nothing else. Then again they're coached by Mike Holmgreen, who is getting to that age where he needs to retire cause the game has passed him on. Though I should be nicer to this team since I coached the Punter in high school and he's a great kid.