I told you that today would be the day that I dabbled once again in possible trade scenarios. This will please some, infuriate others, and the rest of you will either be shaking your heads or scratching them.
*The Cardinals get Miami's 2nd Round and San Diego's 2nd Round picks.
Miami moves up and get the Arizona's first round pick.
*Dallas move up to Chicago's first round pick.
Chicago gets Dallas' first round and Cleveland's first round picks.
*Seattle gets the Falcons 2nd and Texans 2nd.
The Falcons move up and the get the Falcons 1st and 3rd round picks.
*Oakland moves up and gets San Francisco's first round pick.
New England moves down and gets Oakland's 1st and 4th and their 2009 1st round pick.
*Minnesota signs Derrick Anderson and give up their 1st, 3rd and 5th round picks to the Browns.
These are all teams who are almost always moving about, have history in trading picks, and all fall pretty much in line with the trade value chart.
ROUND 1
1. Miami Dolphins-Glenn Dorsey, DT, LSU
Arguably the best defensive player in the draft, and at a position the Dolphins need help at. Holiday and Traylor are nice players, but they are beginning to get a lil long in the tooth. Get Dorsey and they can bestow their knowledge to one of the most athletic defensive tackles I've ever seen play college football.
2. Oakland Raiders (via New England/San Francisco)-Chris Long, DE, Virginia
Why do the Raiders spend so much, family. Their fan base has to be biting at the bit to get Chris Long on their team. They don't give up too much, and likely would get more out of Chris Long here then they would from a DeSean Jackson further down the board. Their defense is getting better, this makes it in the top ten in the league.
3. Atlanta Falcons-Brian Brohm, QB, Louisville
Again, Bobby Petrino needs extreme help to get this team back on track. The best way to do that is to grab his quarterback who already knows the system and can step in under center day one. He's not the best quarterback available, but I think he'll settle on familiarity over talent.
4. St Louis Rams-Jake Long, OT, Michigan
As I've said before, the Rams don't have an offensive line that could stop the Duke Blue Devil defense right now. Orlando Pace will likely play next year, if healthy, who better for Jake Long to learn the ways of the NFL then from the best tackle of his generation.
5. New York Jets-Darren McFadden, RB, Arkansas
I know a lot of folks don't like this pick here for the Jets. I know they don't need a running back, but Mangini may also come from the Patriot philosphy of taking the best player available, which is without a doubt McFadden. Plus it keeps him away from other teams.
6. Kansas City Chiefs-Malcolm Jenkins, CB, Ohio St
The Chiefs' corners are both on the wrong side of 30 and need that shot of youth. Malcolm Jenkins is a Herm Edwards type of player, who he could mold into something special. Sam Baker is another possible choice, but is a big stretch at the number six spot in the draft.
7. Baltimore Ravens-Andre Woodson, QB, Kentucky
I honestly feel bad for Andre Woodson. The Ravens are going to draft him, then Billick will ruin whatever promise he has for a career. Now some think the Ravens should try Troy Smith out already, and I may agree, but here's to hoping that Ozzie Newsome screw up in this draft.
8. New England Patriots (via Oakland)-James Laurinaitis, ILB, Ohio St
The Patriots trade back and still manage to get the player they and their fans wanted in the first place. Do you realize how over The Road Warrior would be in a place like New England? Learning from all those greats on defense would just continue the Patriots dominance over the league, which is want they desire anyways.
9. Cincinnati Bengals-Sedrick Ellis, DT, USC
I know the Bengals will have their sights set on The Road Warrior, but they're gonna have to trade up to get him before the Patriots do. Sedrick Ellis though is a fine substitute of a pick, and may end up being the better pro defensive tackle then Glenn Dorsey since he doesn't have to live up to hype.
10. Houston Texans-Kenny Phillips, S, Miami
The Texans will spend the first round up until this point crossing their collective fingers, hoping beyond hope that no one above them takes Kenny Phillips off the board. If by chance he is gone by then, I wouldn't be shocked to see the Texans move down to pick up more picks.
11. Dallas Cowboys (via Chicago)-Mike Jenkins, CB, South Florida
The Cowboys move up cause of salary cap, and the fact that they will be hoping to get Kenny Phillips. With Phillips gone, they keep their focus on their secondary and nab Mike Jenkins. Jenkins is raw talent who could be molded into something really special.
12. Philadelphia Eagles-Keith Rivers, OLB, USC
The Eagles will likely have their sights on Kenny Phillips as well, but I don't think they're frisky enough to actually move up. Rivers is an excellent choice to help them right away at the linebacker position. Their defense, like the rest of their team, is getting older and needs some new blood.
13. Washington Redskins-Calais Campbell, DE, Miami
They go with a Miami alumni, they say to honor Sean Taylor, but in reality this is a very big need for them. Their pass rush is almost non-existent, Campbell can come in and right away add some athletic ability to the defensive end position, maybe bring that defense up to that level folks expected it to be at this year.
14. New Orleans Saints-Reggie Smith, CB, Oklahoma
The Saints need a lot of help on defense. The free agents they brought in don't seem to be working, and their offense can only score so many points. As long as their defense is a wet napkin, it doesn't matter how much talent the offensive side of the ball has.
15. Carolina Panthers-Matt Ryan, QB, Boston College
At one point I had Matt Ryan falling all the way down to the Bears. Then I realized there really isn't a inside linebacker worth taking this high in the draft and it became Matt Ryan, a man who can learn under Jake Delhomme, for at least a year or so. With those tools, and with enough protection, he could turn out the best QB of the draft.
16. Denver Broncos-Tracy Porter, CB, Indiana
The Broncos lost Darnett Williams earlier this year, and ever since then they've had a huge hole in their secondary. Porter is rising quickly on many boards, and the thoughts on Porter is reflected here in his higher draft place. He's a fiery kid who should do well in the Denver system and learn a lot from the best corner in the NFL across the field from him.
17. Cleveland Browns (via Minnesota)-Vernon Gholston, DE, Ohio St
The bottom line in Cleveland is that the Browns need a defensive line, badly. We tried building one a few years ago and it went very poorly. Vernon Gholston though is another matter entirely. I was never a fan of the Courtney Brown or Gerrard Warren picks, but I am a fan of Gholston. When you pick the guy who was the only man to beat the number one tackle in football this year, you're ok with me.
18. Miami Dolphins (via Arizona)-James Hardy, WR, Indiana
The Dolphins drafted Ted Ginn Jr. last year, but it was more for his return ability. Chambers is a decent wide receiver, but they need a solid receiver to play opposite of him, that's where Hardy comes in. Now he may be overrated due to Indiana's desire to win for their coach, but he is the number one receiver on many boards and I think they Dolphins would give it a shot.
19. Buffalo Bills-Sam Baker, OT, USC
Marv Levy knows what he is doing, and he knows if he takes Sam Baker with the 19th pick he's gonna get a good return on his investment. They need to protect their young QBs, and need someone to make lanes for Marshawn Lynch. I believe that Baker is the best value pick for the Bills at this point in the draft.
20. Detroit Lions-Aqib Talib, CB, Kansas
I've said it in previous drafts, the Lions have a pretty huge gap where Dre Bly used to play for them. I believe that Talib is likely gonna end up the best corner that comes out of this corner rich draft, and think it may be the Lions best first round pick since Roy Williams.
21. San Diego Chargers-Kentwan Balmer, DT, North Carolina
The Chargers right now only have one pick on the first day of the draft. Taking Kentwan Balmer, who is sort of a tweener between defensive tackle and defensive end, gives them option of someone who can play multiple positions on the line of scrimmage, and maybe take away some of those double teams Merriman receives.
22. Tennessee Titans-Limas Sweed, WR, Texas
Vince Young this week looked like the Vince Young everyone expected coming out of Texas. Now I don't know what has brought this on, I know the Titans are very eager to see this kind of play continue, that's why they draft Sweed from Texas, so they can have some familiarity.
23. Chicago Bears (via Dallas/Cleveland)-DeJuan Tribble, CB, Boston College
Injuries have plagued the Bears for years, but this year it is clearly evident. The Bears vaunted defense right now ranks 28th...yes, 28th. They need to get some more young blood into their secondary, who play hard but maybe too hard since they're always hurting themselves. Tribble is perfect for this style of defense and should do well in Chicago.
24. Jacksonville Jaguars-DeSean Jackson, WR, Cal
For years Jacksonville has been attempting to find a big time wide receiver, and they are still looking. DeSean Jackson will be a great return man, maybe even ranking as high as Hester and Cribbs. This will help their offense, making the field shorter, and taking pressure off of Garrard. That big time receiver though is still out there, somewhere.
25. New York Giants-Dre Moore, DT, Maryland
The Giants don't seem to have many needs, as they are fairly solid everywhere (cept maybe Eli but ya know they're not going for a QB). Their weakest spot on their defense, in my opinion, is at defensive tackle. They need to build their depth elsewhere, but defensive tackle needs to be addressed immediately.
26. Atlanta Falcons (via Seattle)-Jeff Otah, OT, Pitt
Some folks may wonder why the Falcons need an offensive tackle and not a corner, and the answer is simple. The Falcons have the talent at the corner position, they just need to be properly motivated. Their offensive line, particularly their tackles, need a major upgrade.
27. Tampa Bay Buccaneers-Quentin Groves, DE, Auburn
I think Quentin Groves was made for a 3-4 defense or a Tampa 2 defense. He is quick and agile enough to play off the offensive line, and he runs a 4.6 40. The man can play many spots on defense, and if New England's pick was around this spot, I think they'd be looking right at him. To me he's a perfect fit for this Tampa Bay team.
28. Pittsburgh Steelers-Dan Connor, OLB, Penn St
Dan Connor I think will be overlooked much like Poz was last year until he fell into the Bills' hands in round two. It may not be the biggest need for the Steelers, but he's the kind of player that fits into their style of play. I think he'd be revered in Pittsburgh and would make a great addition to the famed franchise.
29. Green Bay Packers-Rashard Mendenhall, RB, Illinois
Not too many running backs taken in the first round this year, I believe because of the trend of first round running backs never seeming to be the answer in places. I think you'll start to see this trend as certain "skill" positions are taken later to save some money, unless it's some kind of sure thing.
30. San Francisco 49ers (via Indianapolis)-Mario Manningham, WR, Michigan
The issue is simple, Alex Smith has only Vernon Davis to throw to, that's it. Their passing game is garbage right now because there are no weapons. Well, here's a big time weapon, right off the bat. Tall, quick, and fast the only downside would be a questionable character. Other then that, Manningham would be a top five pick if he had had a good college quarterback.
31. Chicago Bears (via Dallas)-Marcus Griffin, S, Texas
Again the Bears keep on restocking their secondary, this time with Marcus Griffin. Their safeties have been getting hurt more then their corner counterparts, so I think this is an smart, safe choice to end the first round of the 2008 draft. Though I could also see them going after an offensive lineman as well here.
32. New England Patriots-Forefit
ROUND 2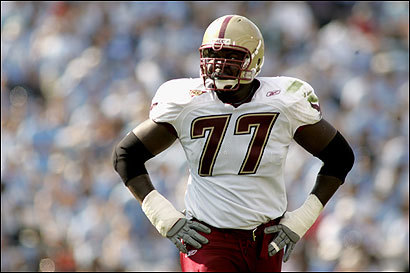 1. Arizona Cardinals (via Miami)-Gosder Cherilus, OT, Boston College
2. San Francisco 49ers-Early Doucet, WR, LSU
3. Seattle Seahawks (via Atlanta)-Antoine Cason, CB, Arizona
4. St Louis Rams-Vince Hall, ILB, Virginia Tech
5. New York Jets-Phillip Wheeler, ILB, Georgia Tech
6. Kansas City Chiefs-Alex Mack, C, Cal
7. Baltimore Ravens-Erin Henderson, OLB, Maryland
8. Oakland Raiders-Barry Richardson, OT, Clemson
9. Cincinnati Bengals-Ali Highsmith, OLB, LSU
10. Seattle Seahawks (via Atlanta/Houston)-Shannon Tevaga, G, UCLA
11. Chicago Bears-Dennis Dixon, QB, Oregon
12. Philadelphia Eagles-Michael Hamlin, S, Clemson
13. Washington Redskins-Marcus Monk, WR, Arkansas
14. New Orleans Saints-Red Bryant, DT, Texas A&M
15. Carolina Panthers-Jonathon Godd, ILB, Vanderbilt
16. Denver Broncos-Derek Harvey, DE, Florida
17. Minnesota Vikings-Tony Hills, OT, Texas
18. Arizona Cardinals-Steve Slaton, RB, West Virginia
19. Buffalo Bills-Jack Ikegwuonu, CB, Wisconsin
20. Detroit Lions-Fred Davis, TE, USC
21. Arizona Cardinals (via Miami/San Diego)-Quentin Demps, S, UTEP
22. Tennessee Titans-Travis Beckum, TE, Wisconsin
23. Cleveland Browns-Frank Okam, DT, Texas
24. Jacksonville Jaguars-Lavelle Hawkins, WR, Cal
25. New York Giants-Josh Barrett, S, Arizona St
26. Seattle Seahawks-Jonathon Stewart, RB, Oregon
27. Tampa Bay Buccaneers-Lawrence Jackson, DE, USC
28. Pittsburgh Steelers-Roy Schuening, G, Oregon St
29. Green Bay Packers-Charles Godfrey, CB, Iowa
30. Indianapolis Colts-Adarius Bowman, WR, Oklahoma St
31. Dallas Cowboys-DJ Hall, WR, Alabama
32. New England Patriots-Kevin Ellison, S, USC
ROUND 3
1. Miami Dolphins-John Carlson, TE, Notre Dame
2. San Francisco 49ers-Drew Radovich, G, USC
3. Atlanta Flacons-Chris Williams, OT, Vanderbilt
4. St Louis Rams-Justin King, CB, Penn St
5. New York Jets-Terrell Thomas, CB, USC
6. Kansas City Chiefs-Kirk Barton, OT, Ohio St
7. Buffalo Bills (via Baltimore)-Steve Justice, C, Wake Forest
8. New England Patriots (via Oakland)-Chris Ellis, DE, Virginia Tech
9. Cincinnati Bengals-Craig Steltz, S, LSU
10. Houston Texans-Cody Wallace, C, Texas A&M
11. Chicago Bears-Shawn Crabble, OLB, Michigan
12. Philadelphia Eagles-Ray Rice, RB, Rutgers
13. Washington Redskins-Adam Kraus, G, Michigan
14. New Orleans Saints-Ben Moffitt, ILB, South Florida
15. Carolina Panthers-Heath Benedict, OT, Newberry
16. Minnesota Vikings (via Denver)-Dwight Lowery, CB, San Jose St
17. Cleveland Browns (via Minnesota)-Mike Hart, RB, Michigan
18. Arizona Cardinals-Beau Bell, ILB, UNLV
19. Buffalo Bills-J Leman, ILB, Illinois
20. Detroit Lions-Chris Harrington, DE, Texas A&M
21. Chicago Bears (via San Diego)-Eric Young, G, Tennessee
22. Tennessee Titans-Dominique Rogers-Cromartie, CB, Tennessee St
23. Cleveland Browns-Wesley Woodard Jr, OLB, Kentucky
24. Jacksonville Jaguars-Bruce Davis, OLB, UCLA
25. New York Giants-Earl Bennett, WR, Vanderbilt
26. Atlanta Falcons (via Seattle)-Harry Douglas, WR, Louisville
27. Tampa Bay Buccaneers-Jacob Hester, RB, LSU
28. Pittsburgh Steelers-Tom Zbikowski, S, Notre Dame
29. Green Bay Packers-Jordan Grimes, G, Purdue
30. Indianapolis Colts-Mike McGlynn, OT, Pitt
31. Dallas Cowboys-Xavier Adibi, OLB, Virginia Tech
32. New England Patriots-Chevis Jackson, CB, LSU