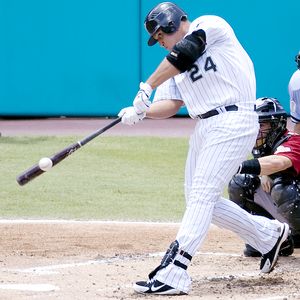 As most of you may know,the first major trade of the baseball offseason has occured and like anything that has to deal with baseball, I have an interesting take on this that may shock you.
Wow, the Tigers got HOSED on this deal!!! I mean what the hell were you thinking Detroit??? You gave up 2 VERY solid prospects in Andrew Miller and Cameron Mayban. You also let go of some VERY solid minor leaguers. If Florida baseball has taught us anything, they can turn water into wine and well, and well, you gave them Lake Michigan!
First off, You replace a 20 homerun guy in Brandon Inge. Inge is a strikeout guy with a poor average, but he provides offense and lots of it when its needed. He is a poor mans Adam Dunn. Inge can play every position but every other position is filled with solid starters. This was unneccessary move in my opinion.
Second, Dontrelle Willis has hit his peak. Every team knows what this guy is capable of and has easily adapted. I think he will have a productive 2007 season but everything beyond will be subpar. Detroit- You traded a major league ready 22 year old for someone with identical, if not lesser, skills. All I see out of this move is regret and remorse.
Florida looks EXTREMELY good with this trade. Aaron Boone will solidify 3rd base now. Sure he isnt what he used to be but he is solid and a veteran. Also, they can convert Gall into a 3b and platoon him with Almanzega if need be. Florida's weakness has been the Outfield, and this is where Cameron Mayban fills the need. He is quick, has pop in his bat, and has some major league experience. He may not start the season in the pro's but he will be in the lineup come June im sure. As for the other players involved, Mike Rabelo, Dallas Trahern, Eulogio De La Cruz, Burke Badenhop. Mike Rabelo has an incredilbe amount of talent and could possibly steal the starters role from Miguel Oliva come April.
Not only do the Marlins have a good future ahead of them, they save roughly 25 million in salary per year. Now we all know that the money wont be reinvested in the lineup but that is the Marlins MO. They trade talent for new talent and rotate that philosophy every 3 years. Results seem to be pretty good; 2 World Series in 10 years.
My projected Florida Marlins lineup:
SS- Hanley Ramirez
CF- Alejandro De Aza/Cameron Mayban
2b- Dan Uggla
1b- Mike Jacobs
LF- Josh WIllingham
RF- Jeremey Hermeda
C- Miguel Oliva/Mike Rabelo
3b- Aaron Boone/Alfredo Almanzega
SP- Andrew Miller
SP- Scott Olsen
SP- Ricky Nolasco
SP- Sergio Mitre
SP- Anibal Sanchez
CL- Kevin Gregg
Now let the debates begin.......