The 2008 MLB First-Year Player Draft is tomorrow at 2pm. The draft class is looking rather weak this year without much depth and definitely no sure-fire top picks or future stars. That said, each draft always comes up with some surprises and the draft is the best way for a team to restock their minor league system with prospects to develop or use in trades for established players.
1. Tampa Bay Rays
Their Probable Pick: Buster Posey, C Florida St.
Posey has rocketed up the charts by having an outstanding year at the plate for Florida St. He's a good defensive catcher but there are still questions about whether or not he'll be an impact bat in the big leagues or just a solid everyday player.
Steve's Pick: Tim Beckham, SS Georiga HS
Probably the best all-around talent in this year's draft. Is projected to hit and hit for some power as well as bring good speed to the table. If I'm the Rays, I'm taking the best available talent on the board.
2. Pittsburgh Pirates
Their Probable Pick: Pedro Alvarez, 3b Vanderbilt University
Alvarez has the best potential to rise the majors quickly and settle in in the middle of team's batting order. He's a pure hitter with power and could anchor a team's offense for the next decade if he lives up to his potential.
Steve's Pick: Alvarez. The Pirates have been cheap in the draft for too many years and it looks like they are now willing to spend the money for some real talent. Even though Alvarez is a Scott Boras client and will demand a huge bonus, the Pirates need to show their fans that they are willing to try to put together a competitive team.
3. Kansas City Royals
Their Probable Pick: Brian Matusz, P San Diego University
Matusz is a safe pick because he is a polished college lefty. Don't let the word "polished" cloud your view of him though, he has some considerable upside. He's got a solid average fastball but his off-speed pitches are dynamite. So while he won't blow away hitters, he'll still be able to rack up some strikeouts with his slider, curve ball and change up complimenting his decent heater.
Steve's Pick: Matusz. I like him in this spot. He could maybe have a Barry Zito like impact in the big leagues (back when Zito was good). Beckham would be a good pick as well giving the Royals one of the best young left sides of the infield in baseball with Alex Gordon.
4. Baltimore Orioles
Their Probable Pick: Tim Beckham, SS Georgia HS
Beckham would immediately give the Orioles a top-flight shortstop prospect and pairing him with catcher Matt Weiters could solidify the middle of the field for the Orioles for the next decade.
Steve's Pick: Beckham. To me, this would be a no-brainer. Anytime you can grab the top talent with 4th overall pick you have to do it.
5. San Francisco Giants
Their Probable Pick: Justin Smoak, 1b South Carolina
The Giants have a ton of needs and could really use some athleticism on their team. So what do I think they'll do? They'll take a slow-footed first baseman. At least Smoak is a power-hitting switch hitter who could end up in the middle of their order.
Steve's Pick: Gordon Beckham, SS Georgia
There were times when people were debating whether Gordon was the best Beckham in the draft. He looks like he could settle into a fine #2 hitter while providing very good defensive at shortstop. My thinking is that it is much harder to find a good player at shortstop than it is to find a masher at first base.
6. Florida Marlins
Their Probable Pick: Kyle Skipworth, C California HS
Catcher is a organizational weakness for the Marlins and Skipworth is the best left on the board assuming Posey is chosen already. Skipworth is probably a better bat than Posey but its unclear if he'll be able to provide adequate defense.
Steve's Pick: Skipworth. It is hard to find good catching so its worth rolling the dice and believing that your development team can bring Skipworth's defensive skills up to an acceptable Major League level.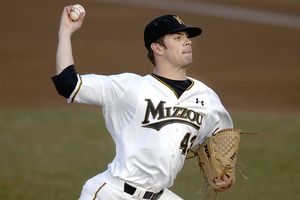 7. Cincinnati Reds
Their Probable Pick: Aaron Crow, RHP Missouri
Crow is probably the best college power pitching prospect in the draft. He has a mid-90's fastball and the chance to develop some decent off-speed pitches. The Red's offense looks to be good for the foreseeable future and need some pitching to compliment it.
Steve's Pick: Garrett Cole, RHP California HS
Call me a sucker for upside on this one. Cole has what could be the highest upside of any pitcher in the draft. While he could easily turn out to be a bust I'd rather take a chance at getting something special instead of playing it safe and not having a chance to get an impact talent. Crow would be my second choice here and the Reds really wouldn't be making a mistake with him. Cole will probably drop to the second half of the first round because he's a Boras client and that will scare away a lot of teams at the top of the draft.
8. Chicago White Sox
Their Probable Pick: Gordon Beckham, SS
Beckham at this spot would be a good value pick. He can stabilize the top of the order and the middle of diamond for the White Sox.
Steve's Pick: Beckham.
9. Washington Nationals
Their Probable Pick: Eric Hosmer, 1b Florida HS
Hosmer is a tremendous power hitting prospect and would be a good fit for the Nationals who need to add some offense to their lineup.
Steve's Pick: Hosmer. If the Nationals are willing to give out the money that Hosmer will command they could have a steal here. Hosmer has the most offensive upside of any high-schooler this year and could be a #3 or #4 hitter when he is ready.
10. Houston Astros
Their Probable Pick: Christian Friedrich, LHP Eastern Kentucky
Friedrich is one of those low-upside, safe to majors picks that I absolutely hate. He's got a decent fastball and solid off-speed pitches but offers non of the high upside potential that a top 10 pick should have. For some reason, MLB teams like guys like this and this is around where he's projected to go. On a side note (this is very unscientific...) Friedrich just isn't a good baseball name.
Steve's Pick: Aaron Hicks, RF/RHP California HS
One of the guys with the most upside in the draft. He has apparently stated that he would like to be a right fielder in professional baseball and he has the potential to be a all-star caliber RF. While that is all fine and dandy...his highest upside is as a top of the rotation starter. He has some of the most electrifying stuff in the draft and it would be a waste for him not to use it. I would draft him as a pitcher and just give him enough money to convince him to sign. (It's not my money)