TOP STORIES
Without a doubt the biggest news this weekend was not only did Barry Bonds test positive in 2003 for the juice, so did
A-Fraud
and 103 other ball players. I'm not what's the worst part of this story though. The fact that MLB did the test to see if there
was any reason to do testing
or that only A-Rod's name was released by SI. I'm with
Bloody Sock
in releasing the other names, but this story just proves something you all have to admit sooner rather then later.
Jose Canseco should no longer be doubted.
Apparently Chris Brown and Rihanananana were supposed to perform last night at the Grammys but couldn't due in part of Mr. Brown's
tea time with police detectives
. Apparently Chris Brown arrested for...well, we're not sure since it seems to change every hour. First time I read it last night it was assault and now it is some domestic violence charge...threat...I'm not sure. All I know is apparently M.I.A. stole the whole fucking show doing what she did 9 months pregnant, fuckin a.
LOCAL NEWS
An ingenious way to get out of showing up to court on your court date? Send
a virus
to the Municipal Court system.
The SFA School of Theater is putting on
Defacing Michael Jackson
and it opens this weekend. I'm not sure why, by I am insanely interested about a one act play involving race issues and the man who has no race.
Good news for some of our friends, the
DC Area Jails
are looking to cut costs and releasing many early. So don't expect jail time the next to you slur a cop...you know who I'm talking about.
SPORTS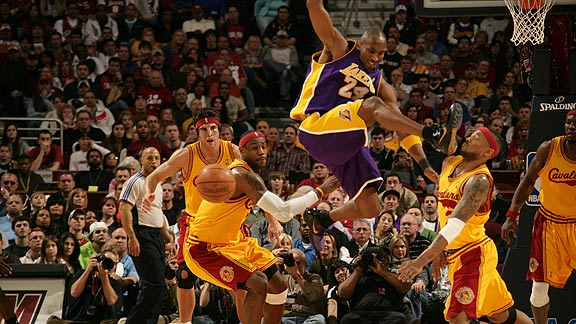 In a matter of days the Lakers have gotten some revenge on the Celtics and then yesterday beat
the most dominate home team in the NBA
by a good margin. I thought they were supposed to get worse after that injury, not turn it up another notch. Of course when Kobe Bryant is doing jumping spin kicks to the other team it does tend to help you win games.
Larry Fitzgerald continued his dominant play yesterday and
won the MVP award for the Pro Bowl
. This guy is so good it's scary. The funniest thing I found was Collinsworth comparing Fitzgerald to Lynn Swann. Swann didn't even reach six feet tall and used ballet as his weapong. Fitzgerald is just a beat at 6'3 with an insane vertical, Andre the Giant sized hands, and a desire to score that would Randy Moss the greatest of all time if he had half the desire that Fitzgerald does.
ENTERTAINMENT
He's Just Not That Into You
came in as the
number one movie
this weekend. The things that were really surprising though was how well Coraline did (yay Gaiman!) and how much ass Taken continues to kick. I've seen it, trust me it's like Liam Neeson is channeling his inner Bauer. I on the other hand saw
Fanboys
friday night. Let me tell you this, it is worth the hype, it is hilarious and easily on my top ten list of all time. If that doesn't do it for ya, then let me give you a lil taste....
Kristen Bell shows up looking like this
.
We must turn to sadder news, apparently someone thought it was a good idea to
let the schmuck ruin
another comic book movie.