So, I'm bored today, nothing is getting me wet when I read blogs or news stories so there's nothing else to post. So I figured I'd reach back and deliver my first NFL Mock Draft...without record predictions. I took the current record and put them in order. When teams had the same order I merely took whoever had the lowest points scored and put them first. I also included one item that I think could possibly happen, mainly the Vikings signing Derek Anderson giving the Browns a first and third round draft pick due to their tender.
Round One
1. St Louis Rams-Jake Long, OT, Michigan
With the injury to Orlando Pace they need to find his replacement sooner rather then later. I think they will like more then Long as they like their linemen from the Big 10.
2. Miami Dolphins-Matt Ryan, QB, Boston College
I think Cam Cameron and the Dolphins go the safe route and take Matt Ryan as he is the safest Quarterback pick in this draft.
3. New York Jets-Glenn Dorsey, DT, LSU
They could reach and try DeSean Jackson, but they've had great drafts the last few years and putting someone the talent of Dorsey in front of Vilma gives them a potent run defense.
4. Atlanta Falcons-Brian Brohm, QB, Louisville
Come on, Bobby Petrino is salivating for Brian Brohm to fall to him. He doesn't have to worry about him knowing the playbook, it's already pre-installed.
5. San Francisco 49ers-Sam Baker, OT, USC
I know my Niner friends want this pic to happen like this, but will the Niners be smart, give Smith some protection or give him a weapon like DeSean Jackson?
6. Cleveland Browns (via Minnesota Vikings)-Chris Long, DE, Virginia
If the Vikings don't take the bait on Anderson, the Jaguars, Ravens, Falcons and Bears might. We need a defensive line upgrade in the worst way, so if it isn't Long it better be Ellis or Dorsey, whoever is still here.
7. Oakland Raiders-DeSean Jackson, WR, Cal
The Raiders take the local kid to give a playmaker to JaMarcus Russell. He can also give them great field position via returns. Their coach knows him from USC so if he takes him he believes he's the real deal.
8. Cincinnati Bengals-Kenny Phillips, S, Miami
The Bengals D has disappeared this season so they could go any position. I think Phillips is by far the best defensive player left at this spot so it should be elementary.
9. Chicago Bears-Darren McFadden, RB, Arkansas
I know, you would expect the Bears to go QB but then they're still stinging after Rex Grossman and Cade McKnown. Benson is still young, but McFadden may be too juicy of a player to let slip past them. I could see the Texans trading up to take McFadden as well.
10. Houston Texans-Malcolm Jenkins, CB, Ohio St
If McFadden doesn't fall to them, they'll continue their defensive upgrades with the person they find to be the best DB available. I think it is Aquib Talib, but something tells me they'll go Jenkins if they don't trade up.
11. Buffalo Bills-James Laurinaitis, ILB, Ohio St
Much like the Texans they're building defense before offense, as they should, they play the Patriots twice a season. They got Poz last year, what about the tandem of him and The Road Warrior, does that only get me excited?
12. Denver Broncos-Calais Campbell, DE, Miami
They've been trying for seasons to increase their pass rush and I think they easily go with Campbell to play opposite of Drumerville. They like their linemen in the later round so don't be shocked if they draft two or three.
13. New Orleans Saints-Tyson Jackson, DE, LSU
They want to boost their D, as they have pretty much everything they need on offense. Jackson is an LSU kid, they take him over Harvey to continue to please their fan base who are die hard Tiger fans.
14. Philadelphia Eagles-Rey Maualuga, ILB, USC
They don't need to draft a QB or RB at this spot, but their linebacking corps has taken its share of hits the last few years. Rey or Rivers could be an option, but I wouldn't rule out a DE either.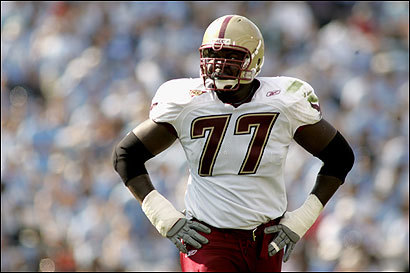 15. Arizona Cardinals-Gosder Cherilus, OT, Boston College
Wisenhunt and Grimm are smashmouth football folks, and they need to protect Matt Leinart and create some kind of running game. They have the receivers and running back, now they need an offensive line to get that offense moving.
16. Tampa Bay Buccanears-Derrick Harvey, DE, Florida
They take Harvey or Jackson, whoever is available. Harvey helps bring in the Gator fans, which is always a nice touch. They could stretch and go for Woodson here, but we know Gruden's preference.
17. Kansas City Chiefs-Sedrick Ellis, DT, USC
They have Hali and Allen at the DEs, they now need the dominate inside presence that would really complete the defense. Woodson is also another choice, but Edwards may not have given up on Croyle yet.
18. Baltimore Ravens-Andre Woodson, QB, Kentucky
Unlike the other teams, the Ravens would waste no time in selecting Woodson. The Boller project has failed and Woodson could learn a great deal from a QB much like himself in Steve McNair.
19. Washington Redskins-Keith Rivers, OLB, USC
The first reaction is to fix that offense, but it isn't missing any personnel, just an offensive playbook from this century. They upgrade their defense some more with this phenomenal linebacker.
20. Carolina Panthers-Justin King, CB, Penn St
There's no QB worth taking this high and they definitely don't need any WRs or RBs. They'll continue to bolster this defense, though Dan Connor or Vince Hall could be an option here as well.
21. Seattle Seahawks-Malcolm Kelly, WR, Oklahoma
I would personally take a running back to eventually replace Alexander, but they also need WRs who can actually hold on to the ball as well.
22. San Diego Chargers-Early Doucet, WR, LSU
I know they have Chris Chambers now, but where else do they need someone? Their defense has pretty much everyone they need, and WR is the only position that makes any sense for me.
23. Dallas Cowboys (via/Cleveland Browns)-Aqib Talib, CB, Kansas
Jerry Jones is always thinking Super Bowl with his team. To beat the Colts or Patriots he's gonna need a shut down corner, he goes with the best one on the board.
24. Jacksonville Jaguars-Adarius Bowman, WR, Oklahoma St
There is no QBs left worth a first round pick, so they pick up a wide receiver to give them a weapon for an eventual quarterback. Barry Richardson is another possibility here as well.
25. Tennessee Titans-Mario Manningham, WR, Michigan
To think that Manningham could fall all the way to the Titans is almost absurd, but some teams will be turned off by his attitude. All Vince Young wants is someone to run long so he can throw them the ball. If Limas Sweed is available in round 2, they'll take him as well.
26. Detroit Lions-Mike Jenkins, CB, South Florida
A resurgent Lions team could either go offensive line, but I like the selection of Mike Jenkins at corner to fill the void left by Dre Bly.
27. Pittsburgh Steelers-Dan Connor, OLB, Penn St
What does this team need? Likely a guard after their's leaves, but I think Tomlin, as a defensive minded coach, will take the best defensive player left on the board at this point. Tom Zbikowski and DeJuan Tribble may be possible here as well.
28. New York Giants-Steve Slaton, RB, West Virginia
I know many of you are shaking your heads, but the Giants need some kind of flashy play maker, Slaton would be that man. He'd return and spell Brandon Jacobs in a return to Thunder and Lightning.
29. Green Bay Packers-Jonathan Stewart, RB, Oregon
We know the lack of rushing attack that the Packers have this season, and Stewart is a work horse that they would love in Green Bay. Hell, he's already used to wearing green and yellow so there'd be very little adjustment.
30. Dallas Cowboys-Quentin Groves, DE, Auburn
The are rumors that a certain defender for the Cowboys isn't happy. If he bolts don't be surprised if the Cowboys use this pick to replace him with Quentin Groves from Auburn.
31. Indianapolis Colts-Barry Richardson, OT, Clemson
They lost one of the linemen and Tony Ugeoh has filled in quite well, but it is always good to double up. The Colts know offensive linemen talent and they'll love the durability of Richardson from Clemson. Xavier Adibi and Brian Cushing are also a possibility to help their defense as well.
32. New England Patriots
-Forefitted after spygate