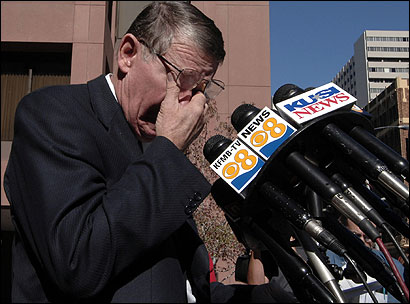 Almost lost in everything that has gone on in the last couple months is the bribery trial of
defense contractor Brent Wilkes
. He is currently in court in Poway facing 14 charges of bribery, conspiracy and money laundering for his dealings with Randall "Duke" Cunningham, a Republican from Rancho Santa Fe.
We all remember this, of the US Attorneys, Carol Lam, was fired cause she brought this case to trial against Duke Cunningham. If you need a refresher on it
go check out the history details
of her investigation and subsequent firing. They had to fire her of course cause her investigation was a small brush fire that would have gone like gunpowder up the line all the way into the White House, but let's get back to the trial, the charges she filed on her last day good for her.
Apparently Brent Wilkes' nephew has turned state evidence on his Uncle and it appears that it may also be why so many Republicans are all of a sudden running for cover and away from Congress, isn't that right Denny Hastert?
He [Combs the nephew] testified that Wilkes developed a close relationship with Cunningham over the next seven years, and that led to ADCS getting millions in contracts via Cunningham's influence and ability to earmark government funds for certain programs in the defense budget. He would also pressure Pentagon officials to award contracts from those programs to ADCS.

Wilkes often said he could rely on Cunningham. "He explained that Cunningham was basically willing to do anything," Combs said.

When there were problems with government officials about the work, Combs said Wilkes would often respond that he would "get ahold of Duke" to resolve them. He said Cunningham was "our problem-solver."

Wilkes traveled to Washington, D.C., 20 times a year and would dine with Cunningham three times a week. The dinners cost thousands, Combs said, but they gave Wilkes "essentially unlimited" access to Cunningham.

"He could get Duke on the phone any time, any place," he said.
It's always good to have someone lubricate the wheels for you when it comes to government contracts, sadly though it is slightly illegal. Then again, there came certain perks that were not limited to money. Now when we think of today's Republicans in Congress we think of bathroom stall blow jobs or perhaps lil pages, but not Duke, he was a traditionalist, he wanted prostitutes.
A prostitute whom prosecutors say a defense contractor provided to former Rep. Randy ``Duke'' Cunningham testified Wednesday that the congressman fed her grapes as she sat naked in a hot tub before they headed to a bedroom at a Hawaiian resort.
...
Donna Rosetta said she was chauffeured to a private villa at the Hapuna Beach Prince Hotel in Kamelua, Hawaii, in August 2003 by an escort service she worked for. Cunningham and Wilkes invited her and a second woman to undress and slide into a hot tub before Cunningham invited her upstairs, Rosetta said.
...
The other woman, Tammy McFadden, testified that Wilkes and Cunningham appeared to be arguing about who would go upstairs with which woman.

``The one I ended up with was the one who was running the show,'' said McFadden, referring to Wilkes. She described Cunningham as ``the boisterous one'' and said he was overbearing.
Way to go Duke, you should be so proud to represent your constituents this way. Not one, but two pros, in Hawaii none the less. I just hope those pros were better then the strippers I saw out there.
It doesn't end there though, this case opened up big time yesterday with the testimony of Combs the Nephew. Apparently Duke Cunningham was not the only member of Congress who liked a lil grease.
Combs testified Wednesday that his uncle communicated with other prominent lawmakers, including California Republicans Jerry Lewis and Duncan Hunter, former House Majority Leader Tom DeLay of Texas, Republican Whip Roy Blunt, and Sen. Daniel Inouye, a Hawaii Democrat.

But the relationship with Cunningham was at the center of Wilkes' success in Washington, and Combs said his uncle worked to keep the lawmaker happy - efforts that included staking his nephew money to purposely lose in poker games with the lawmaker.
...
Wilkes also paid to fly Cunningham and former House Speaker Dennis Hastert from a golf outing in Palm Springs to San Diego for a reception and then back to Washington on private jets, Combs testified.
It is always nice to see Tom DeLay in the news in such a positive light. Hell, it's such a nice thing to see not one but two former House Majority Leaders mentioned at trial.Of course as we all know, this is nothing but a witch hunt brought on by zelot liberals to degrade these Representatives good names, to tar and feather them, and put them in a bad light. For, as we all know, these men have never had a single rock thrown at them for they have no sin. They've never had their hand caught in the cookie jar.
sigh