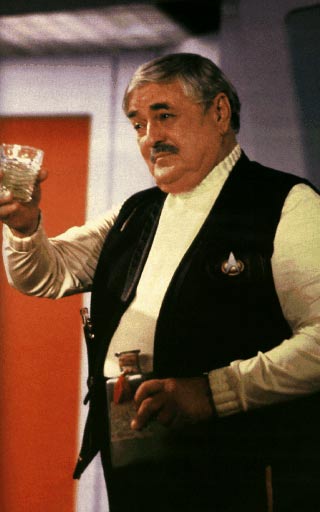 In every man's life, there comes a time when he must realize that he's more or less outlived his practical, day-to-day usefulness, that's he's grown past his youth and prime, and that it's time to transition gracefully from middle age to elder status. And there's nothing wrong or bad about being older. In an ideal society, these men become senior partners in law firms, sage judges, and simply wise old men. They have a wealth of information, experience, and advice, and should be listened to.
But not every man can make that transitition gracefully. I think of Scotty from the TNG episode "Relics." In short, the story picks up with the new Enterprise crew answering a distress call. They find an old transport ship stuck on a giant sphere. Ol' Scotty somehow saved himself using a transporter, but he's out of place in the future. He can't adjust to the fact that he doesn't have practical skills to save the day anymore. Luckily, after a good, soul-searching drunk, he finds a way to save the new Enterprise, and everyone goes home happy (which is the eternal downfall of the Star Trek series).
Our modern day example is Mr. Ralph Nader. Mr. Nader has announced he's running for President again. Like Scotty, Mr. Nader can't accept that he's no longer relevant or useful. Yes, as a consumer advocate he's done a lot of good, and he has (a couple, maybe) valid points to make about corporate influence, our lack of care for the environment, and the course our democracy has taken. But, really, Mr. Nader, you're far, far past your time. You, as much as anyone, are responsible for the 7+ years of misery we've lived through under this President. Your place in history is a footnote: the guy who took votes away from Al Gore, the guy who screwed this country just as hard as our Supreme Court back in 2000. And the crazy thing is that Mr. Nader is unapologetic. His role in history is plain as day, but he can't or won't acknowledge it. Instead, he's back to trying to play savior in a world that's moved past him.
Just like our old Mr. Scott.