It's amusing in a way, my top five sleepers of the draft are Ahtyba Rubin (Browns), Beau Bell (Browns), Kenny Moore (Lions), Ezra Butler (undrafted) and Yvenson Bernard (undrafted). I can only hope that Phil Savage jumps on it, picks up my two remaining sleepers and make me a very happy man. Now onto the NFC North that has seen some changes happen in the last year. The ole gunslinger is "retired", the Vikings found Jesus, the Bears defense couldn't stop a cold and the Lions actually looked decent for a quarter of the season.
CHICAGO BEARS
NEEDS:
QB, OL, RB, WR, S
Draft Picks:
OL Chris Williams, RB Matt Forte, WR Earl Bennett, DL Marcus Harrison, DB Craig Steltz, DB Zack Bowman, TE Kellen Davis, DL Ervin Baldwin, OL Chester Adams, LB Joey LaRocque, OL Kirk Barton, WR Marcus Monk
Approved Picks:
Steltz, Forte, Williams
Eventual Busts:
Harrison, Bowman, Davis
Review:
I'm 50 50 on this draft. The got some good role players, people that can play at a reasonable level, but the passing on Rashard Mendenhall, especially when he's in Chicago waiting to be drafted just can't be accepted. I know they have a bad track record of taking running backs in the first round, but something tells me that Bears faithful would have had no qualms taking the local kid who looks like the second coming. Craig Steltz is a great addition, and probably the best pick they made the entire draft. Kellen Davis is an underachiever, but he's not going to be starting anyways. Barton was used and abused by LSU, hence why he fell so low. Monk can possibly be a huge steal in the seventh round. He has the size and athletic ability, and if he overcomes injury issues may end up being their best selection on this day. I think though the reason I gave them such a low grade is the fact that they passed on Rashard Mendenhall.
GRADE:
C-
DETROIT LIONS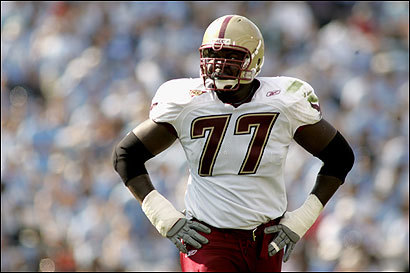 NEEDS:
RB, OL, DL LB, CB
Draft Picks:
OL Gosder Cherilus, LB Jordon Dizon, RB Kevin Smith, DL Andre Fluellen, DL Cliff Avril, WR Kenneth Moore, FB Jerome Felton, DL Landon Cohen, DB Caleb Campbell
Approved Picks:
Cherilus, Smith, Avril, Moore
Eventual Busts:
Dizon
Review:
For the first time since Matt Millen has been the GM I love his draft. I thought Cherilus was getting a bad rap because of poor combine results, but you watch him during a game and he can play. He comes in and immediately helps their offensive line. Dizon is a big reach in the second in my opinion. If they have a bust in this draft it's going to be him. Fluellen has been moving up in recent weeks and should take Shaun Rogers' place very nicely. Cliff Avril could be a beast if he lives up to his combine numbers. Kenny Moore holds a few ACC records for receiving, but because he doesn't have the jaw dropping combine stats he got no respect. Let teams double team Roy Williams, Kenny Moore is going to take advantage and turn heads, my favorite pick of theirs. Kevin Smith has gotten a good amount of attention and I think it's a good fit for the Lions. They were smart this year in waiting for the offensive playmakers, now there isn't the pressure to excel like there has been in the past for their first round draft picks.
GRADE: B
GREEN BAY PACKERS
NEEDS:
QB, OL, CB
Draft Picks:
WR Jordy Nelson, QB Brian Brohm, DB Pat Lee, TE Jermichael Finley, DL Jeremy Thompson, OL Josh Sitton, OL Breno Giacomini, QB Matt Flynn, WR Brett Swain
Approved Picks:
Nelson, Finley, Thompson
Eventual Busts:
Lee, Giacomini, Flynn
Review:
They moved down and took a reliable wide out for Aaron Rodgers. Jordy Nelson is much like Kenny Moore, he was productive in a difficult conference. I think he fits into that offense very well and will probably the safety valve for Rodgers. He'll be for Rodgers what Wes Welker is for the Patriots. Brian Brohm is an interesting choice. He'll push Rodgers, and depending on how Rodgers plays, they could have the Rivers/Brees debate in a few years. Finley gives them an athletic tight end who's a better pass catcher then their current tight ends. Jeremy Thompson is an absolute steal in the fourth round and should be Green Bay's starting defensive end by the end of the season. I wasn't sold at all by Breno Giacomini and I'll be surprised if he lasts more then two seasons with the Packers. Josh Sitton is a player that will take time to develop but could be something really special. Patrick Lee to me is an underachiever and won't last very long in the NFL. Now the Packers have great leadership and could turn him around, but bust just reeks off this kid.
GRADE:
B+
MINNESOTA VIKINGS
NEEDS:
QB, OL, WR, DE
Draft Picks:
DE Jared Allen, DB Tyrell Johnson, QB John David Booty, DL Letroy Guion, OL John Sullivan, WR Jaymar Johnson
Approved Picks:
Johnson, Booty
Eventual Busts:
Guion, Sullivan
Review:
First let me say I'm not going to bash the Vikings like some have for paying the ransom for Jared Allen. They already had probably the best defensive tackle combo in the NFL, and Brian Robinson coming along nicely with Udeze becoming a serviceable defensive end. Now you add Allen, with Robinson and Udeze rotating and you have one of the premier defensive lines in all of football. John David Booty is also another great pick by the Vikings. He's played at one of if not the biggest program in college football. He may have been higher on draft boards if he had the receivers that Palmer and Leinart had before him. We know that Tavaris Jackson isn't the answer at quarterback in Minnesota, but Booty very well may be. We know USC quarterbacks don't take long to adjust to the NFL so if Jackson struggles early on I wouldn't be surprised to see Booty giving the ball to Purple Jesus. My only regret is that they had so few picks, with the only one who may make immediate impact being Booty.
GRADE:
B-