It'll take four days, but each day I will review two divisions on what they did in the draft. Today we're gonna start with the AFC North, home to my beloved Cleveland Browns, who won this draft whether you're willing to admit it or not. The tough thing is that the rest of the AFC North had damn good drafts as well. Perhaps now we will be the team how surpasses the NFC East as the "best division in football". This of course will be tested this year when the two divisions play each other.
BALTIMORE RAVENS
NEEDS:
QB, OL, DL, LB, CB, WR,
Draft Picks:
QB Joe Flacco, RB Ray Rice, LB Tavares Gooden, S Tom Zbikowski, G Oniel Cousins, WR Marcus Smith, OT David Hale, S Haruki Nakamura, WR Justin Harper, RB Allen Patrick
Approved Picks:
Rice, Zbikowski, Cousins, Smith
Eventual Busts:
Flacco, Gooden, Harper
Review:
I thought the move down to #26 was a great move for the Ravens, another example of Ozzie Newsome's genius. Moving back up to get Joe Flacco though I question. He's going to be a work in progress, I'm not saying that he can't play, but he was a Fighting Blue Hen and they weren't exactly playing the Big 12 every week. Ray Rice was a great move and Zbikowski was a great addition to that defense. The problem with the Ravens taking Rice is he's not going to be starting. Mark my words, they're gonna miss this boat like they did with Derek Anderson and Priest Holmes. They see the talent, but since other folks are already there they don't pay too much attention to them. I think both Ray Rice and Marcus Smith will fall into those categories. I worry though that the owner thought he was drafting Shane Falco and I'm sorry to tell him that Flacco cannot control the Matrix and that you're still very vulnerable at the corner position.
Grade:
B-
CINCINNATI BENGALS
NEEDS:
DL, LB, S, OT, WR
Draft Picks:
LB Keith Rivers, WR Jerome Simpson, DT Pat Sims, WR Andre Caldwell, OT Anthony Collins, DT Jason Shirley, S Corey Lynch, TE Matt Sherry, DE Angelo Craig and WR Mario Urritia
Approved Picks:
Rivers, Simpson, Lynch
Eventual Busts:
Sims, Caldwell, Shirley
Review:
If you're a team attempting to move away from the image of convicts and bad draft choices why do you select a player who quit college once and has major off the field issues? They say he has great ability, almost Glenn Dorsey ability, but if this was true he would have started more then just this year don't ya think? Rivers was the right choice, Sims the wrong one, plain and simple. Now Rivers will be serviceable, he'll play day in and day out, but don't expect him to be a game changer. He'll be the guy who won't lose games for you, but he won't exactly change them either. Taking the smaller school players is a wise idea too, as they tend to work harder, which is something the Bengals desperately need. Any Florida wide receiver taken will be mocked until one proves that they can be a starting and productive member of society.
GRADE:
C+
CLEVELAND BROWNS
NEEDS:
DL, LB, CB, OL
Draft Picks:
QB Brady Quinn, DT Corey Williams, DT Shaun Rogers, LB Beau Bell, TE Martin Rucker, DT Ahtyba Rubin, WR Paul Hubbard and DE Alex Hall
Approved Picks:
Williams, Bell, Rucker, Rubin
Eventual Busts:
None that I can see
Review:
It pains me to almost put Shaun Rogers on the busts list, but then I re-thought it and took him off. He won't play every play and that will make him that much more effective. The Browns now have an excellent rotation of defensive linemen, which will help every facet of the defense. I had a top five sleepers in this draft, and the Browns took two of them in Beau Bell and Ahtyba Rubin. You look at what Rubin was able to do during the Senior Bowl (he owned that game) and you can see what he is capable of. Hubbard is in interesting choice, which could pay off well when JoeJ retires at the end of the season. Rucker is controversial because of Winslow, but understand that both Winslow and Heiden have injury problems leaving Dinkins the only healthy tight end we have. The lack of a corner being drafted is bit interesting, but I think they have their undrafted players targeted and it could be argued that no team in the last five years has done a better job at that portion then the Browns. Alex Hall is an intriguing pick who could turn into a gold mine at the outside linebacker position if he's able to adjust to the NFL from tiny St Augustine.
GRADE:
A-
PITTSBURGH STEELERS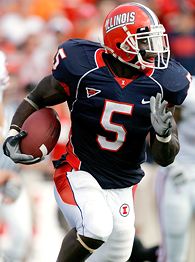 NEEDS:
WR, OL, DL, CB
Draft Picks:
RB Rashard Mendenhall, WR Limas Sweed, DE Bruce Davis, OT Tony Hills, QB Dennis Dixon, LB Mike Humpal, S Ryan Mundy
Approved Picks:
Mendenhall, Sweed, Dixon
Eventual Busts:
Davis, Hills
Review:
This draft the Steelers became the bane of my fuckin existence. After their first two picks I had one reaction, FUCK! I believe that Rashard Mendenhall was the best running back in this draft, hands down. Limas Sweed I love as a player, and it doesn't hurt that he was a Longhorn. Luckily Mendenhall isn't an every down back, but I'm still scared shitless about the speed the Steelers have at running back. Bruce Davis is a bust for me as he's a big under-achiever. Hills can be serviceable, but he wasn't exactly rocking my world when he played for the Longhorns. The pick of Dixon is interesting. I love him as a player, and I think he could be a phe-nominal NFL quarterback, but I think the Steelers took him to turn him into their version of Josh Cribbs. Problem with that plan, like everyone knows, you have to get that from the undrafted pool. I like Humpal who I think can start sooner then Davis can, and if he doesn't he'll be a great special teamer. Same goes for Mundy, he'll be their rocket on kickoffs and punts, trying to tackle Josh Cribbs.
GRADE:
A