Good Afternoon everyone, it is finally time for the LSWTF.com pre-season Top 25. The first entry into the pre-season football coverage here is the top 25. Next week we will cover my pre-season All Americans, the pre-season All-Pros and the week after we'll the pre-season NFL Predictions. Shortly after that I should bring about the newest 2009 NFL Mock Draft based on the pre-season predictions, but for now let's move to the Top 25.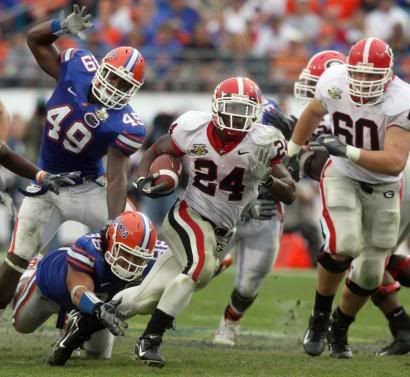 1. Georgia Bulldogs
2007: 11-2
Returning Stars:
Knowshon Moreno, RB; Matthew Stafford, QB; Asher Allen, CB/Ret
Depending on whose poll you look at you see either Georgia or this poll's number 2 as the number one team in the country. Right now I'm giving it to Georgia as I don't know if there's been a better all around running back in the South since a former Georgia Bulldog destroyed the SEC in the early 80s.
2. USC Trojans
2007: 11-2
Returning Stars:
Rey Mayaluga, ILB; Brian Cushing, OLB; Fili Moala, DT
Yes, Georgia has one of the best college running backs in recent memory, it's the USC Trojans though who has a defense that may even rival some NFL defenses. Easily maybe the best linebacking corps since AJ Hawk's senior year in college football, this will be a team that is led by a defense to the National title game. It may be a down year for the Pac-10 so it could be a very easy road to the title for the Trojans.
3. Missouri Tigers
2007: 12-2
Returning Stars:
Chase Daniel, QB; Jeremy Macklin, WR; Chase Coffman, TE
Georgia has amazing players, Missouri may have the most well rounded offense in the country. Now some people expect them to fall off, but if you look at their schedule that doesn't seem likely. They have an easy schedule for the most part until they go to Austin, and that's the seventh game of the season for them. After that it may not be till their last game against Kansas that they face another challenge.
4. Ohio State Buckeyes
2007: 11-2
Returning Stars:
James Laurinaitis, ILB; Chris Wells, RB; Malcolm Jenkins, CB
I didn't bring it up earlier, but circle September 13th on your calendar. The Buckeyes travel to the Los Angeles Coliseum to play USC in the battle of the two best defenses in the nation this year. Both Ohio State and USC have talent on offense, but it will be the play of their defense who decides this game. It may be early to say, but the winner of this game could be the one who ends up in the National Title game.
5. Auburn
2007: 9-4
Returning Stars:
Sen'Derrick Marks, DT; Antonio Coleman, DE; Brad Lester, RB
The Auburn Tigers will fight in what will be a very competitive SEC this fall. Though Georgia stands out, who will be number 2 and probably a BCS at large will be fought between three to four teams, with Auburn possibly edging out the competition due to the play of their linemen on both sides of the ball.
6. Oklahoma Sooners
2007: 11-3
Returning Stars:
Sam Bradford, QB; Phil Loadholt, OT; Nic Harris, S
The Sooners are back once again with a loaded team, with an excellent mixture of Senior talent and leadership to go along with a good group of promising sophomores. On the bright side for Oklahoma, Bradford completes almost 20% more passes at home then he does on the road, which gives Oklahoma a big chance to win since every tough game (save for the shootout though they are the "home" team this year) they have is at home.
7. Florida Gators
2007: 9-4
Returning Stars:
Tim Tebow, QB; Percy Harvin, WR; Brandon Spikes, LB
The Gators return this year with many familiar faces who won the National title two years ago. The question is can they get back into the double digit win category? The talent is obviously there, the difference is the SEC is quickly becoming a conference where any team, save for Vanderbilt and Ole Miss can win. They must have made a deal with the devil though, the Gators only have four road games this year.
8. West Virginia
2007: 11-2
Returning Stars:
Pat White, QB; Noel Devine, RB; Ryan Stanchek, OT
West Virginia still is in the top ten, even though they lost their coach to Michigan, and I wonder how many of us have them still here because of the job they did in the bowl? Pat White and Noel Devine are very athletically gifted and will no doubt become multipurpose players in the NFL, I just don't know if they can keep the same level of game play with the loss of Rodriguez.
9. Clemson Tigers
2007: 9-4
Returning Stars:
CJ Spiller, RB; James Davis, RB; Michael Hamlin, S
I don't know if we've seen a pair of running backs so good since Caillac/Ronnie or Reggie/Len Dale. Davis shocked many by staying in school instead of entering the draft as it was becoming quite apparent his touches were going to shorten this year with the emergence of CJ Spiller. Aaron Kelly is two touchdowns away from being the school career record holder in touchdown receptions and may reach the record before the month of August is over.
10. BYU Cougars
2007: 11-2
Returning Stars:
Max Hall, QB; Jan Jorgensen, DE; Matt Bauman, LB
I cannot deny the fact that I love the way this BYU team is coached and how they play the game. Their defense is a no nonsense hard nosed corps of players that have won me over. I wouldn't be shocked if Jorgensen plays his way into the first or second round of the draft. Add to the fact that the defense didn't allow a hundred yard rusher to anyone last year, when they play in the offensive heavy conference, it raises the eyebrow to see what they can do against real competition. Let's put it this way, their schedule gives them the opportunity to be this year's Boise State.
11. Kansas Jayhawks
2007: 12-1
Returning Stars:
Todd Reesing, QB; Joe Mortensen, ILB; Mike Rivera, OLB
It'll be interesting to see if Fat Mangino can save off eating babies long enough to duplicate what his team did last year. The man can coach, he's shown that, but can he keep the team on the winning track now that folks don't see them as the homecoming game every year? I really like what I see in Todd Reesing right now and think he could turn into a surprising pro prospect. Their linebacker corps is beginning to get some respect, and if they can keep their level high, Kansas should be in every game.
12. Texas Longhorns
2007: 10-3
Returning Stars:
Colt McCoy, QB; Brian Orakpo, DE; Roy Miller, DT
Look, all I'm saying is remember the name of John Chiles. He is Colt McCoy's backup and you'll be seeing plenty of him. I'm not saying McCoy is going to be benched, but word has it plays are already being designed that include both in the backfield, creating trickery and seeing the kid of moves usually only seen in West Virginia. If the Texas defense can recover from the case of underachievness it has had these last few years, you could see big things from the Longhorns.
13. Tennessee Volunteers
2007: 10-4
Returning Stars:
Arian Foster, RB; Ramon Foster, OT; Eric Berry, SS
Right now the word for Tennessee is momentum, that's all anyone seems to want to talk about. They have momentum from last year, never mind that their offensive line may be the best it's been in years. Foster may be this year's running back who isn't talked about enough in the best running back circles, but make no doubt, the talent is there. The biggest question for Tennessee is their defense, who could be ran through by the SEC.
14. South Florida
2007: 9-4
Returning Stars:
Matt Grothe, QB; George Selvie, DE; Nate Allen, S
South Florida was many of the feel good stories of last season. Coming almost out of nowhere, South Florida seems to be loaded with talent overlooked by the bigger Florida schools and some of those schools have paid the price for it. Grothe has impressed almost anyone who has seen him play. The real star of this team is George Selvie who is likely to be a top ten pick in next year's draft if his play continues at the same level as last season.
15. Wisconsin Badgers
2007: 9-4
Returning Stars:
PJ Hill, RB; Travis Beckum, TE; Matt Shaughnessy, DE
Last year they had the nation's best time of possession and they will need something similar this year. In a rare occurrence for Wisconsin, they face both Michigan and Ohio State, something that it feels like never happens for the often over estimated Badgers. They play at Fresno State then at Michigan weeks three and four which very well produce for this first time in a long time a .500 record for the Badgers. They also still have Illinois and Ohio State on the schedule. They get this rating out of respect, I don't expect to see them last on the top 25 for long.
16. LSU Tigers
2007: 12-2
Returning Stars:
Ciron Black, OT; Herman Johnson, G; Tyson Jackson, DE
This will be an interesting year for the Tigers. Their best players are all linemen as their biggest names have moved on to bigger and better things, namely scoring two touchdowns against Da Boys. The question is can the players taking over continue at the high level LSU has been used to these last few years, or will LSU finally have a drop off year?
17. Texas Tech Red Raiders
2007: 9-4
Returning Stars:
Michael Crabtree, WR; Jamar Wall, CB; Louis Vasques, G
I won't lie, I look at my pre-season All American list and I see the three names listed above. Texas Tech has the talent, but will it finally jump over that hurdle and enter into the Texas, Oklahoma, Kansas and Missouri territory? Kansas and Missouri made that jump last year, will Crabtree and his freakish ability finally get them over that hump and into the elite of the Big 12?
18. Arizona State
2007: 10-3
Returning Stars:
Rudy Carpenter, QB; Michael Jones, WR; Troy Nolan, FS
This is a loaded Sun Devil team, and the only team that can probably compete with the Trojans in the Pac-10. Carpenter seems like he's been in college for a very long time, and I believe it is his final year, but one can never be sure anymore. Look for the name Michael Jones in future as his size and ability to make endzone catches will make him a draft pick for some team in the future. The interesting thing that will have people talking is September 20th, they host the Georgia Bulldogs, can the Sun Devils make their national announcement then?
19. Michigan Wolverines
2007: 9-4
Returning Stars:
Carson Butler, TE; Donovan Warren, CB; Terrance Taylor, DT
I think I rank them this high more out of respect for the ability to coach that Rodriguez has then anything else. He doesn't have the quarterback to run his offense, he went to Ohio State, but he does have a defense that is loaded with more talent then he ever saw during his time at West Virginia. This may give him the ability to stay in games, and maybe even squeak out a few. Make no doubts, if he can beat Ohio State his first year, he will be anointed a god in Ann Arbor.
20. Virginia Tech Hokies
2007: 11-3
Returning Stars:
Sergio Render, G; Victor Harris, CB; Kam Chancellor, S
I've never been that big of a fan of Virginia Tech as I think they tend to have a rather weak schedule every year, (re: see Furman) but this year may be a bit tougher then previous years, even if they have Duke on the schedule. Their defense should still be solid, the problem this year for the Hokies lies in their offense. I don't see anything that frightens me or makes a team think of doing anything other then their usual scheme to beat the Hokies, this isn't a good sign.
21. Illinois Fighting Illini
2007: 9-4
Returning Stars:
Juice Williams, QB; Arrelious Benn, WR; Vontae Davis, CB
Ron Zook needs to schedule a game next year between his Fighting Illini and the Gators, in the swamp, but only if Juice Williams stays for his senior year. I'd love to see Juice put it to the Gators by schooling them and Tebow in their own cribe. I lowered them a little as Juice will have to rely on his arm more so this year as he no longer has Mendenhall. This team is young and talented, if they stay focused they could surprise the nation. This time, by competing for the title, but that's only if they can beat Missouri week one.
22. Wake Forest Demon Deacons
2007: 9-4
Returning Stars:
Riley Skinner, QB; Alphonso Smith, CB; Aaron Curry, LB
Riley Skinner is a great quarterback who could turn some heads this season. Wake was only beaten in pass completion percentage last season by only one team in the NATION, and that was Texas Tech. Wake's schedule is a bit soft which could allow them to run the gauntlet in the ACC, but they do have Clemson on their schedule, luckily it is at home. The next toughest game on their schedule may be Miami, who most people have listed in the 40s.
23. Penn State Nittany Lions
2007: 9-4
Returning Stars:
Deon Butler, WR; A.Q. Shipley, C; Maurice Evans, DE
For the last decade the Nittnay Lions have been missing a solid offensive line. Now they seem to have a group of maulers and it may be their best line in fifteen years. They have an excellent corps of wide receivers, but the best thing on this team is their defensive line which may be the best in the country. All 12 players who spent time playing there last year are back and gives them such depth it should be a crime. The biggest test for Penn State this year though is the following, @ Wisconsin, Michigan, @ Ohio State.
24. Alabama Crimson Tide
2007: 7-6
Returning Stars:
Andre Smith, OT; Rashad Johnson, FS; Kareem Jackson, CB
I'm going out on a bit of a limb this year as I believe this will be the year Nick Saban has his recruits in place and Alabama will return to playing great football. They definitely have the secondary to compete in the SEC. They lost almost their entire wide receiving corps to graduation, so look to Julio Jones, the number four recruit in the nation last year, to be the star of their offense.
25. South Carolina Gamecocks
2007: 6-6
Returning Stars:
Kenny McKinley, WR; Jasper Brinkley, LB; Emanuel Cook, S
Once again a placement more for the coach then anything else. Much like Saban, Spurrier should have his recruits and his strategy implemented. The Cocks' defense looks fairly solid, and the passing game should be good as well, the area they MUST improve in is their rushing game. They were outrushed by about 95 yards a game last year, something that won't get them to that upper echelon of the SEC if they continue in that fashion.
Teams Also Receiving Notice:
Fresno State, Cincinnati, Utah, Cal, Michigan State