Last night was SummerSlam, and judging by all reports it was once again a mediocre affair. To be honest, I've more or less have stopped watching the WWE due to many reasons the chief of among them is the mediocre level that they have fallen to followed closely by the ridiculous storylines, pushing of talent undeserving, too much female bs, and many more reasons that I could list but then we'd be here all day and night. The following is my solution to the problems the WWE currently has and what, I believe, would lead to a resurgence of viewership and overall product quality.
SHOW ROSTERS RELEASES AND MOVES
First and foremost would be the immediate altering of rosters. Not a huge move, like I have suggested in the past, but one to help each show solidify what they stand for. Therefore here are the individuals that I would remove from each show and either release from their contract or relocate them.
RAW
Hacksaw Jim Duggan-release
The Sandman-release
Santino Marella-OVW
Super Crazy-Smackdown
Val Venis-ECW
SMACKDOWN
Mark Henry-release
Shannon Moore-ECW
The Major Brothers-Raw
Deuce, Domino and Cherry-Raw
Ashley, Michelle, Torrie-Raw
Victoria-ECW
ECW
The Boogeyman-Smackdown
Nunzio-Smackdown
The Miz-Smackdown
Big Daddy V and Matt Striker-Smackdown
Extreme Expose-Raw
Mark Henry's contract is up, or so I hear, and I would just release him. He can't wrestle very well and is constantly hurt. Hacksaw gets the old timer pop, but is useless otherwise, I think the same can almost be said for the Sandman (and I'm a fan). Santino is not ready for prime time as one would say and I suggest sending him back to the minors.
As you see, I have sent the majority of the women to Raw. They serve no purpose on Smackdown and I'm tired as hell of watching Extreme Expose and their bad dancing. Perhaps keep Kelly Kelly on ECW as a manager as a foil to Victoria.
ROSTER SIGNINGS
The key to this is of course the rumor that certain TNA contracts are up in October so naturally this is when this would take place. I also think it is imperative that these men move now as TNA is becoming WCW 2000 in a hurry and completely wasting these talents.
Samoa Joe
Christopher Daniels
Senshi
Elix Skipper
Colt Cabana
Now, in a dream world I would include Homicide on this list but I have no idea what his status is so in the meantime have him listed as needs to move soon as well. Course Colt Cabana is merely a call up, but since he's not on the major three lists we shall add him here. All five men would go to ECW, as would Paul Burchill once Homicide is signed (who of course also goes to ECW).

THE PLANS

ECW
Now then your roster is Samoa Joe, Christopher Daniels, Senshi, Elix Skipper, Colt Cabana, CM Punk, John Morrison, Monty Brown, Elijah Burke, Kevin Thorn, Steven Richards, Tommy Dreamer, Balls Mahoney, Val Venis, Victoria and Shannon Moore. I know many may blast what I am about to say, but hear me out. The entire rest of the time from October/November to Wrestlemania is a build up to the three way dance of John Morrison, CM Punk and Samoa Joe.
Why, because that would easily be the match of the night and has the potential to be the greatest match in Wrestlemania history. I almost would want to include Daniels, but I have other ideas for him. But yes, it would start out as Samoa Joe being the hired gun of John Morrison to take out CM Punk. That's why Punk calls on his best friend Colt, to even the score. This also allows us to see some Punk and Joe matches at Pay Per Views while Morrison defends the title against various folks.
The other major storyline on ECW would be a faction war, The Fallen versus The New Balance errr New Breed errr fuck it, they become the new Nation of Domination. Christopher Daniels would begin with promos anticipating his arrival. Every two weeks he's with another one of his lost souls. The Fallen becomes Daniels, Kevin Thorn, Steven Richards and Shannon Moore. You reunite Steven Richards and after a year or so you could have a Richards/Victoria Thorn/Ariel match. Yes, you would bring her back for that.
They would feud with The Nation which would be Elijah Burke, Monty Brown, Senshi and Elix Skipper. The blow off would be Wrestlemania in a falls count anywhere eight man hardcore match. Now imagine that at the Citrus Bowl, how amazing would that be? Now the key for all of ECW is for the WWE to allow them to just wrestle. Don't hinder on what these men could do, if you allow it, ECW would soon have higher ratings then maybe even Raw itself.
RAW
John Cena's reign of terror is almost to the one year mark, and since the rosters move around at October, that is where I am running with this idea. Also, Raw is now the sole home for Tag Team wrestling and Female wrestling in the WWE. You have two hours each week, there is plenty of room for the WWE, IC, Tag and Women's title. Women's and IC the first hour, Tag and WWE in the second. I would also pretty much book each card like that, maybe switching IC and Tag every now and then.
Now then, you have a great deal of female wrestlers so you can rotate who's on top fairly well. Just push whoever is getting this biggest pop each month, no one really cares about female wrestling. My main event though for Mania would be Mickie James versus Beth Phoenix for the title.
The Tag Team division needs a kick in the pants in the biggest way. They have plenty of sound tag teams and we need to show of their talents. Have one feud over the tag titles and one feud like the Rock N Roll and Midnight. Whirling Dervish, Cryme Tyme, and D&D should be feuding over the tag titles. Mania, I say you have to go Dervish and CT with CT finally winning the belts. The other feud I think you should have is London and Kendrick versus WGTT just for the athleticism alone.
The IC title needs to be brought back as the person who is likely next in line for the WWE title. It worked for Austin, Rock and HHH. It is where they hone their skills and get ready for the main event, and that is where they have dropped the ball in recent years. Umaga, Kennedy, these are main event folks and should be in this mix, but not Carlito. He can wrestle for it, but he should never win it, he's no main eventer. Hell, I would even move him back to Smackdown possibly. Lashley, Booker and Hardy should also be in this mix. Mix it up, and don't think about Mania, that's where Money in the Bank comes in.
The WWE title should revolve around Cena, Orton, HHH and HBK...at the beginning. I do think Kennedy is almost there, if only he can stay healthy till Wrestlemania. I would give Orton the belt in October, only to have HHH win it at the Royal Rumble. This is only to continue the stupid McMahon storyline of Kennedy being his son. He wins the Rumble and faces off against HHH at Wrestlemania.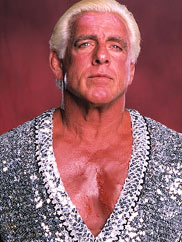 SMACKDOWN
You may be wondering, why do I have a picture of Ric Flair up for the Smackdown section? Well, it is really quite simple. In October, to the shock of everyone, Ric Flair would beat the Great Khali and become the World Heavyweight Champion once again, WOOOOOOOOO!
No, I'm not kidding. He would hold onto the belt until Royal Rumble where hopefully Edge will be healthy enough to win the title from Ric Flair. Hey, Hogan got his last run with the title, so should Flair. I mean, after all, weren't we all taught when we were growing up that we should be fair to Flair?
Now then, now that all the women and tag teams are gone from Smackdown the focus would be on singles wrestling. Basically it would be for Vince's big men that he covets so much, guys who aren't ready for Raw and can't compete with ECW's level, and for Cruiserweights. Yes, the CW division for the new CW. Hell, maybe even change the name of the title to the CW title, confuse folks and make them think it's a TV title.
You have Batista, Undertaker, Khali, Big Daddy V, and Kane for the huge men contingent. Hell, maybe even more Snitsky over to Smackdown for his own hat trick. Sadly, none of these men would be in the main event at Mania. I would move for a Batista Undertaker rematch at Mania with Batista determined to break the record. I would also move for the fattest guy on the roster to take on the tallest guy so we can all have a piss break, just don't put it after the women's match.
You may be wondering, who then is wrestling Edge? Well, isn't it obvious? Matt Hardy will main event Wrestlemania, but of course, there will be a twist in this match. Lita will be made the guest referee. Say what, yes, Lita will be the guest referee. I think these two can at the very least put on one hell of a show together and they both have done enough for the company to deserve this spot.
The CW and US title, eh, it's the usual business for those two belts. I know you're thinking to yourself, no one in their right mind would watch this brand! Ah, have no fear my young peons, for I do have a solution to that dilemma. You see, Teddy Long is getting a bit long in the tooth to be GM of Smackdown. Therefore, the new Smackdown GM is none other then Stone Cold Steve Austin. See, I told you people would still watch.
WRESTLEMANIA
See, I think their programs should be built into two halves. One building towards SummerSlam and one building towards Wrestlemania. In theory you could do it thrids with the other portion building for Survivor Series, but that's also where I would introduce WarGames to the WWE. So then, with all this written, here is what my card would be for Wrestlemania, bold is the winner.
Dark Match
Kane and Chuck Palumbo
vs Colt Cabana and Tommy Dreamer
Curtain Jerker
8 Man Money In The Bank
Umaga vs Jeff Hardy vs Bobby Lashley vs Carlito vs MVP vs Rey Mysterio vs
Shawn Michaels
vs King Booker
Tag Team Championship
Lance Cade and Trevor Murdoch vs
Cryme Tyme
Women's Championship
Mickie James
vs Beth Phoenix
Batista vs
The Undertaker
London & Kendrick vs
World's Greatest Tag Team
Eight Man Falls Count Anywhere No DQ Match
The Fallen
vs The Nation
The Great Khali vs
Big Daddy V
ECW Championship
John Morrison vs
CM Punk
vs Samoa Joe
World Heavyweight Title
Edge vs
Matt Hardy
Lita Special Guest Referee
WWE Championship
Mr. Kennedy
vs HHH