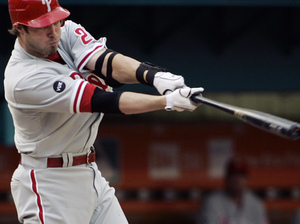 Last night Say Hey, Honcho myself and three friends took in the Nationals and Phillies game at RFK. You may wonder why we have a picture of Jason Werth up, but we shall get into that in a minute. We all went, other then being baseball fans, because Honcho and Jake Taylor are die hard Phillies fans. Course they didn't have the Vengabus featuring The Amazing Utleys like some people a few sections away, but die hard none the less.
Though I'm not sure if I should include Honcho since he decided to take a work ticket and sit in section 106 as opposed to our home that night in 464/465. I don't even know if we can say he was with us in spirit, I think only one of our party actually heard from him last night, but I digress.
The one thing I hate about going to the Nats during the week is that they have no love for us outfield bleacher creatures. Why is it so hard to open a few more food and beer places in the outfield? There shouldn't be only one station open that is in centerfield. I know Say Hey and Mouth had to walk to 419 to get some nachos, I don't believe nachos should be that difficult to acquire at a ballgame.
Also, a quick note to Nats management, why are we stuck with crap beer? Sure we bought cheap tickets, we like the outfield, but why are our choices so limited compared to those down towards the field? Would it be so hard to include a place in the outfield that didn't just serve piss water? Why do you force me to drink MGD for an entire game, why do you taint my body so?
Onto the game, our lil gaggle of misfits have tried many times to heckle the right fielder whoever it may be. Well, last night was a momentous night as we got into Jason Werth's head. You see apparently playing outfield for number 28 is the perfect time to do one's nails. I saw him look at his nails more times then a bored spoiled princess at a lame high school dance. This of course led to many comments about his nails, needing a nail file, chipping, breaking and finding him a manicurist.
We definitely did something right, his first at bat he launched a ball into left for the Phillies first home run and run of the game. Of course we didn't relent as he continued to look up at us and glare like we all just stole his girlfriend. I want to bring a sign next time the Phillies are in town which is in the shape of a giant nail file with Werth in the middle just for him. He probably didn't like it when Church hit his homer and we explained to him that is how you hit a home run, you put it into the seats, not just barely into the bullpen.
We have decided that Ray King is the Nats very own El Guapo. That and that Tim Redding very well could be our very own Rick Ankiel and that he probably needs to move to the outfield since he hit better then half the team last night. It was also nice to show up to the game and motivate my fantasy player Dimitri Young into hitting again, thank you sir, the playoffs are coming and I need your bat.
We had a blast as usual, and we'll likely be there Saturday night and Sunday. If you see someone in an A's Rickey Henderson jersey, that would be me.