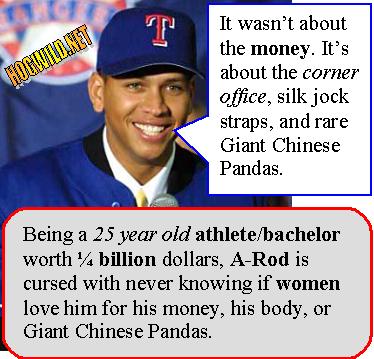 As the list of baseballs 2008 Free Agency expands, last place teams, such as my beloved Giants, can only hope for better things to come. This season holds several potential keys of success, if only the right team can snag them. Below are my predictions as to where this years salary whores, errrr free agent studs will end up:
Alex Rodriguez-
God I hope not the Giants. Sabean expressed interest but even he wont dish out 30 million dollar contract. On top of that, I don't think he wants another high profile Scott Boras client. And what if, what if Arod tested positive for steroids. It would make SF Fan very upset if we had to go through 3 more years of that drama. My prediction is the Chicago Cubs. If Cuban buys the team he has money to spend. That and Arod can play SS again. The Cubs need to win and what better place for Arod to hit home run number 900 than at Wrigley Field. Off the record, if Michael Jordan never commanded 30 million, then NOBODY should. Jordan is the standard for all salaries in my mind. Other possibilities- Angels or Dodgers
Tori Hunter- The Tori Hunter era in New York Yankee land will begin. He will command a big salary but he is worth every cent. He can hit, steal, and hey, play some defense. He would fit in beautifully in that outfield of Melky and Abreau. No worries Caveman Idiot fans, Damon will most likely occupy the DH role for his abilities in the field have long faded away. Other possibilities- Rangers, Cubs, Dodgers
Barry Bonds- *please not SF, please not SF* Its doubtful but Sabean threw him a meager 5 million dollar offer to resign. Chump Change to the all time greatest home run hitter. But Bonds offers us no post-season value and Giants fans are ready to smell October glory. Bonds can still hit and teams know they can pump out 25 more with him around. He wants to stay in Cali so look for the Angels and A's to be a target. Oakland has been a Mecca for older players looking to squeeze out a few more years, i.e. Jason Kendall, Ron Gant, Jermaine Dye, Dave Justice, Mike Piazza to name a few within the last 10 years. Billy Bean loves his money ball and Bonds plays it to a T. Hits for power, walks, and scores runs. BUT he hates to spend money but if the price is right.....Other possibilities- Giants, Yankees, Redsox
Aaron Rowland- If the Rangers lose out of Tori Hunter, look for Rowland to occupy the CF spot in Arlington Texas. He played amazing AL ball with the Whitesox and did the same with Philly, so we know he can adjust. He has to much talent not to play in fielder-friendly Texas. He is a poor mans Hunter and could command alot less money. However, Philly fans want immediate post season satisfaction. Look for the Phillies to make an offer and he does have a ring. He could give a hometown discount, but the contracts to Utley and Howard are way to high for him to not want a taste. I am adding the Brew-Crew here. They have so much talent but no experienced veterans, hell or even a CF. They have a low payroll right now. Look for them to maybe offer a loaded contract in the 2-3 year range. Other possibilities- Brewers, Phillies, Whitesox
Paul Lo Duca- Time for me to regain some Shane points. Lo Duca would be a PERFECT fit in Oakland. They need a catcher and need one badly. Piazza is to solid to leave the DH spot and Lo Duca still has a couple of years. He also could come cheap and does play money ball relevely well. Low K's, high BBS. Id be disappointed if he did not end up here. The Brewers need a catcher also, look for them to compete. I wouldn't be shocked if St Louis, Colorado, or Arizona got in on the action.
Curt Shilling- Sure he is old and in my mind, a punk ass bitch, but he still has alot of talent to offer. At 42 with a 88MPH fastball who would think that??? Well, if Glavine and Maddox can do it, Shilling can certainly adapt. But his problem is that he feels he is worth Beckett and Santana money. 13 million is alot for a pitcher with arm problems. But I know there is a market. He expressed interest in Milwaukee but I dont see them investing so much money in an aged pitcher. Look for Arizona, NY Mets, or even the Cubs to make an offer. These teams have young pitching that could use his mentor ship. Oh, they have a crapload of money to spend as well
Andruw Jones- Sure, he had a bad year. A REALLY REALLY bad one. In a contract year no less. But the man is still 30 and young and has alot of talent. He can, and will rebound from his crap season. LA and Chicago Whitesox have DROOLED over his availability. But dont rule out the Giants. He expressed interest in them during the all-star break. However, he is sought out by a plethora of teams. LA Dodgers, Minnesota Twins, NY Yankees, Boston Redsox just to name a few. Truth is, its gonna boil down to money and years. Look for the Giants to make a HUGE push for him, but I honestly believe we will lose out. I believe, heart of hearts that the Whitesox will land him. My bold prediction here- Kansas City Royals.
Other predictions:
Mike Cameron- Rangers, Phillies, Mets, Yankees
Jorge Posada- NY Yankees, NY Mets
Mariano Rivera- NY Yankees, LA Dodgers
Mike Lowell- Red Sox
Francisco Cordero- Brewers, Yankees, Marlins
Bartolo Calon- Fat camp, Orioles
Tom Glavine- Washington Nationals
Greg Maddox- Washington Nationals, Padres, Cubs
Sammy Sosa- PLEASE!! not for 7 million/, That being said. Rangers
Kerry Wood- Reds, Cubs, Whitsox
Kenny Rogers- Tigers, A's
Mike Piazza- A's
Ken Griffey Jr- Mariners
Sorry Dews- Orioles will do nothing in Free Agency. Their biggest deal is unloading Tejada and signing Tony Batista.