Ah the AFC West, very similar to the AFC East, where there is one dominate team, one team clearly rebuilding, one getting closer, and one who believes they aren't really rebuilding when they clearly are. When three quarters of your division drafts before pick 15 you know you're not very good.
DENVER BRONCOS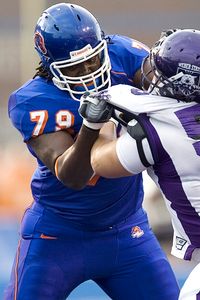 NEEDS:
WR, OL, DL, CB, ILB
DRAFT PICKS:
OT Ryan Clady, WR Eddie Royal, G Kory Lichtensteiger, CB Jack Williams, RB Ryan Torain, DT Carlton Powell, LB Spencer Larsen, DB Josh Barrett and RB Peyton Hillis
APPROVED PICKS:
Clady, Williams, Larsen, Barrett
EVENTUAL BUSTS:
Royal, Powell
REVIEW:
It's not quit 50 50 on whether I like this draft or not. I think they got some great pieces in this draft, filled some needs, but at the same made some blatantly ridiculous picks. I like Ryan Clady, I think he landed at the perfect place for him. The Denver zone blocking scheme I think is perfect for the style of football he plays and should be starting week 1. It takes a special kind of player to get me to like a kid from Virginia Tech, and sorry Royal and Powell both leave me wanting. The entire program is filled with athletic ability, with nothing but underachievers. You see that this year especially, having so many kids drafted and yet making no noise in the national title picture. Lichtensteiger I think has the potential to be a special type of player with Denver, one of their classic stories of playing for the team for 15 years. This is also true of Jack Williams, who I think a lot of teams overlooked. He is blazing fast and should be something special learning from Champ Bailey. The two picks that I thought were just phe-nominal came towards the end with the selection of Larsen and Barrett. These are two players that you're gonna wake up one day and wonder where the hell they came from and how could anyone have missed out on drafting these players.
GRADE:
B
KANSAS CITY CHIEFS
NEEDS:
QB, WR, OL, DL, CB
DRAFT PICKS:
DT Glenn Dorsey, G Branden Albert, CB Brandon Flowers, RB Jamaal Charles, TE Brad Cottam, S DaJuan Morgan, WR Will Franklin, CB Brandon Carr, OT Barry Richardson, WR Kevin Robinson, DE Brian Johnston and TE Michael Merritt
APPROVED PICKS:
Dorsey, Albert, Charles, Carr
EVENTUAL BUSTS:
Cottam, Morgan
REVIEW:
Without a doubt this is the best draft class of any team this year. I know they didn't address the quarterback position, but Croyle could shock people and finally come around this year. Dorsey was one of my favorite players in this draft as he is the epitome of a FOOTBALL player. I like the selection of Branden Albert, though I don't know if he'll be as dominant as folks expect him to be. Flowers will flourish under Herm Edwards and is the only VA Tech player I really liked that was drafted. Jamaal Charles may very well turn Larry Johnson expendable if LJ keeps on with his attitude. Brad Cottam and DaJuan Morgan are two players that never really impressed me. Yes, they have talent out the ass, but they reek of lollygaggers, this draft is so deep though that it doesn't hurt them. Franklin should do well in this system and Carr may be the perfect compliment to Brandon Flowers. Barry Richardson is a solid tackle, one I really like, and should end up starting for the Chiefs. Robinson gives them that return man they've been missing since Dante Hall went across the state and became a Ram. I like Johnston, he's a project, but he's a project that could reap huge dividends if he adjusts to the NFL level of play.
GRADE:
A+
OAKLAND RAIDERS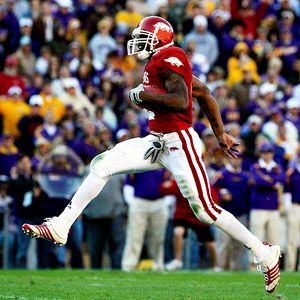 NEEDS:
WR, OL, DL, LB, S
DRAFT PICKS:
RB Darren McFadden, CB Tyvon Branch, WR Arman Shields, DE Trevor Scott and WR Chaz Schilens
APPROVED PICKS:
Branch, Shields, Scott
EVENTUAL BUSTS:
McFadden
REVIEW:
Go ahead and look at the needs listed, do you see running back anywhere? No? You know why that is? Because the last thing they needed was a fucking running back. I understand that the Godfather wanted his second death star after his first one, Bo Jackson, was blown up by some hot shot kid in a Orange and Black helmet but this is ridiculous. You should have made the faithful happy, traded up to number 2 and taken the son of Howie. With that said I think Branch, Shields and Scott should do very well in the NFL. I say the NFL cause lord knows if the Godfather will allow them the time they need to develop to the NFL level. Of course he chose Chaz, they guys size and attributes guaranteed that Al Davis would make him a Raider. My only wish is that we'd trade something, maybe one of the Smiths, to Oakland in exchange for Michael Bush.
GRADE:
D+
SAN DIEGO CHARGERS
NEEDS:
RB, OL, DL, DB
DRAFT PICKS:
CB Antoine Cason, FB Jacob Hester, RB Marcus Thomas, CB DeJuan Tribble and OT Corey Clark
APPROVED PICKS:
Cason, Hester
EVENTUAL BUSTS:
Tribble
REVIEW:
All should learn to trust in the early round selections of AJ Smith. I don't know of a GM in the last twenty years who has had more first and second round picks become stars in the NFL. That being said, gotta love the selection of Antoine Cason by the Chargers. Putting him opposite of Cromartie will actually make Norv Turner look like he can actually be a Head Coach in the NFL. They let go of Lorenzo Neal so trading up to get Jacob Hester was inspired and very well done. He may not be Neal, but he can run the ball effectively, unlike Neal so it's a bonus. Marcus Thomas is an intriguing pick as I think he can be the pounder the Chargers haven't had at running back. They have had back who can run outside the tackle, but not so much one that will go between the guards and run folks over. I don't like the Tribble pick, even at that spot in the sixth round. Taking a chance at one of the wide receivers available may have paid off more. Corey Clark is a decent pick. He comes in with great size and a decent skill set. If he can improve he could fight for playing time.
GRADE:
A-